Sulthan (2021 film) Cinema vivarllu Mi Telugu Lo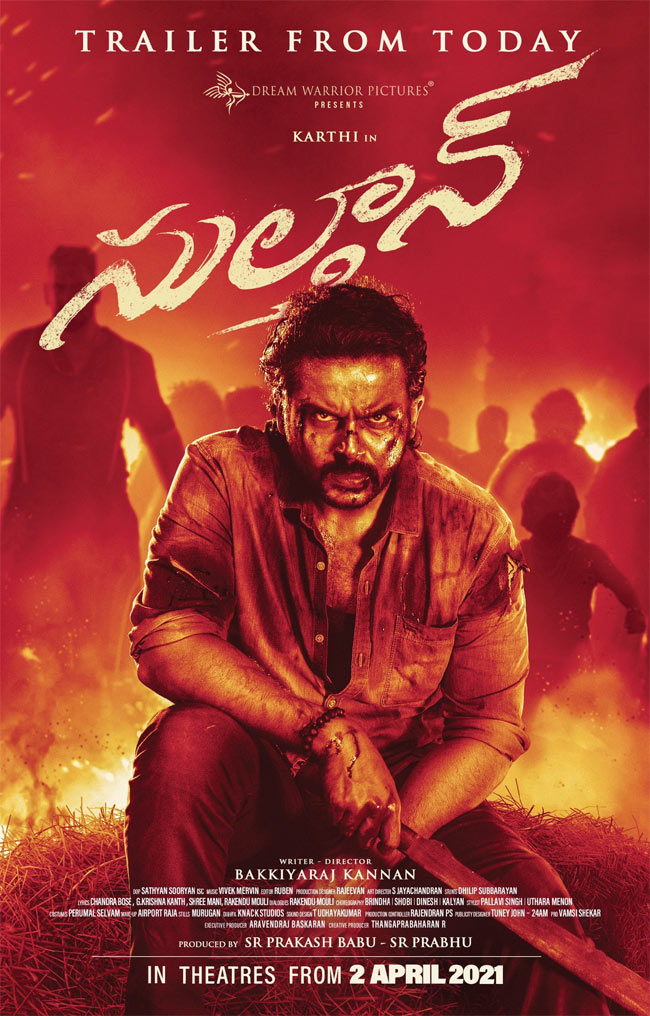 Sulthan Raboye 2021 bharatiya tamila bahasa action thriller drama chitram, dinini bakkiyaraj kannan rachana mariyu darsakatvam vahincharu mariyu dream variyar pictures baner lo S. R. Prakash babu mariyu S. R. Prabhu nirmincharu. E chitram lo karti shivakumar mariyu rasmika mandanna tamila chitra parisrama lo tolisariga natincharu. Ramachandra Raju tho, lal pal, nepoliyan, mariyu yogi babu sahayaka patralu posistunnaru. E chitrani ki sangeetam vivek-mervin mariyu back ground score yuva sankar raja, cinematography ni satyan suryan mariyu editing antony ruben cheta andinchabadindi. E chitram 2021 april 2 na vidudala kanundi.
Sulthan Movie Release Date, OTT Release Date, Cast and Crew
Sulthan
Directed by
Bakkiyaraj Kannan
Produced by

S. R. Prakash Babu
S. R. Prabhu

Written by
Bakkiyaraj Kannan
Starring
Music by
Vivek-Mervin
Yuvan Shankar Raja (background score)
Cinematography
Sathyan Sooryan
Edited by
Ruben

Production
company

Dream Warrior Pictures

Release date

Country
India
Language
Tamil
Sulthan Movie Cast
Karthi Sivakumar

as Sulthan

Jr.

Rashmika Mandanna

as Thenmozhi

Ramachandra Raju

Lal Paul

as Sulthan

Sr.

Napoleon

Yogi Babu

as Pinnala Suthura Baadu Babu

Sathish

as Mokka Joke Sathi

Hareesh Peradi

Nawab Shah

Arjai

Singampuli

Sendrayan

as a

Rogue

Sharath Kumar

Kamraj
Only 7 more days to go to enjoy #Sulthan in cinemas 💃🕺💃🕺

A wholesome entertainer #JaiSulthan 💪#SulthanFromApril2 pic.twitter.com/cQ4AEQA4Bx

— Sulthan (@SulthanTheMovie) March 26, 2021
Production
Sivakarthikeyan-natinchina remo (2016) ku darsakatvam vahinchina mariyu studio green yokka ke. Dream variyar pictures nirmata la lo okaraina S. R. Prabhu e project nu adhikari kam ga dhruvikarincharani 2019 january lo telisindi. Lokesh kanagaraj kaiti (2019) tho natudu purtayina tarvate e chitram antastulu ki veltundani varthalu vacchai. Ade nela lo, rasmika mandanna leda rasi khanna mahila pradhana patra posistarani telisindi; rashmika e project kosam 2019 february lo sign in chesi, tamila cinema lo ki pravesinchandi.
Me 2019 lo, E chitrani ki sultan ani peru pettalani vargalu nivedinchai, ayinappatiki nirmata la nundi adhikarika dhruvikarana velladinchaledu. Ayite, 2019 august lo, nati rasmika anukokunda chitram matala anumati lekunda cinema title nu velladinchadam jattunu kalavaraparichindi. Rashmika taruvata makers mariyu migata jattuku ksamapana lu cheppindi. Rajanikanth natinchina mariyu K. S. Ravikumar darsakatvam vahinchina 2007 animation chitram sultan: Di variyer chitrani ki sultan title kavalsi undi.
Sulthan Movie Release Date in OTT
E chitram 2021 madhyakalamlo famous platform lo vidudala cheyadaniki sidhamga undi. Prastutaniki, adhikarika vidudala thedi inka prakatinchabadaledu. Kabati, Sulthan Movie vidudala thedi dani theatrical run purtayina tarvata untundi. Ithe, edi September 2021 modati varamlo movie yokka OTT leda digital streaming thedilo vidudala avutundani memu alochistunam.
Filming
E project yokka adhikarika taraganam mariyu sibbandhi hajarutho 13 march 2019 na dream  variyar pictures karyalayam lo adhikarikanga prarambhinchabadindi. E chitram yokka klupta shoot purtayina taruvata, chennai lo setlanu nirminchadam tho, oke schedule lo ne cinemanu chitrikarincha la ni makers plan chesinat lu oka vargalu perkonnai. Jitu joseph yokka tambi (2019) purtayina tarvata july 10 na karti e set lo cheradam tho makers e chitram rendava schedule kosam june 28, 2019 na plan chesaru. Ayite, teliyani karana la valla e cinema shoot august ku vayida padutunnat lu rasmika velladincharu. Karti e chitra shooting nu 7 august 2019 lo tirigi prarambhincharu.
E chitram shooting  churukaina vagam tho undaga, brundam oka mataparamaina dustulaku lobadi undi, virini 24 september 2019 na dindigal‌loni malaikottai lo chitrikarananu nilipivesaru. E chitram title sultan‌pai nirasanakarulu abhyantara avyaktam chesaru. 18 Va satabdapu palakudu tippu sultan jeevita charitra, atani palana lo tamilulapai dadi chesaru.  Taruvata nirmata S. R. Prabhu e chitram biopic antharangam kakunda gramina nataka chitram ani velladincharu.
Bharatadesam lo COVID-19 mahammari karanam ga, post production panula tho patu e chitram yokka chiavari leg shoot agipoyindi. cinema shooting‌ nu tirigi prarambhinchadani ki rastra prabhutvam margadarsaka lu, margadarsakala nu vidhinchadam tho, makers shooting  chivari dasanu 25 september 2020 na chendi vadda dindigal‌ku badulu ga prarambhincharu. E chitram shooting 2020 october 8 na purtayindi.
Music
Sangitam svarakarta anirudh ravichandar yokka raksakudu vivek-mervin svaraparicharu. "Jai sultan" ane chitram nundi modati single truck 20 february 2021 na vidudalaindi, dinini viveka rasina sahitam tho anirudh, junior nitya mariyu gana guna padaru. Rendava single"yarayum iva lo ajagā" silambarasan padaru, viveka rasina sahityam tho 5 march 2021 na vidudalaindi.
Watch Sulthan Movie Trailer